As both a Unilock Authorized Contractor and an ICPI Certified Installer, we can guarantee that all of our installations will meet the highest industry standards.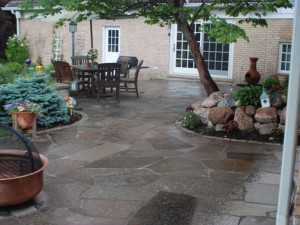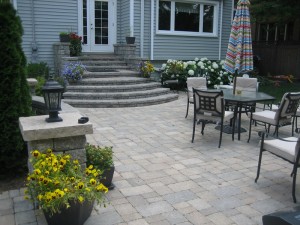 ---
3D Brick Paving Co. is one of Chicagoland's most trusted and reliable sources for brick paving. Whether clients are looking for brick patios, brick driveways or brick walkways, the family-owned and operated company of 3D Brick Paving Co. has the background and experience to design and install your natural stone or brick paving project. As a leading contender in the brick paving industry in the Greater Chicago Metropolitan Area, 3D Brick Paving Co. has been involved in the installation of natural stone, brick pavers and retaining wall systems for both the residential and commercials markets since 1972. We are recognized as having the kind of attention to detail and dedication to craftsmanship that will transform our clients' projects into the works of art they hoped they would be. 3D Brick Paving Co. does it all, and our customers will continue to derive great pleasure and enjoyment from a brick paving project that has structural integrity and durability, not to mention being aesthetically pleasing and practically maintenance-free. 3D Brick Paving Co.'s mission is to provide the finest quality products and installation that merges our clients' specific preferences and requirements. Because each one of our installations is not only a reflection of 3D Brick Paving Co., but it is also a reflection of our clients, we want to assure our customers the utmost in satisfaction. Consequently, we offer a manufacturers' lifetime guarantee on most products and provide clients with a 5-year unconditional guarantee on labor. No wonder 3D Brick Paving Co. is first choice of all of its Highland Park clients.
Highland Park Brick Paving
Highland Park, Illinois is an affluent city in Lake County with a population right around 31,365 residents. Not surprisingly, Highland Park residents are always eager to enhance the beauty of their homes and businesses, and they often seek the advice of 3D Brick Paving Co.'s professionals to install their brick patios, brick driveways and brick walkways. Our highly skilled staff is able to incorporate sophistication and elegance into all of its brick paving projects and all for an affordable price! Highland Park clients know that brick paving is a great way to augment their outdoor living space. Further, if Highland Park families are interested in replacing their old driveway with a state-of-the-art brick driveway, they get in touch with 3D Brick Paving Co.'s all-star construction team. If it is a brick walkway they want, 3D Brick Paving Co. will incorporate it into their existing brick paving. 3D Brick Paving Co. has a "Complaint Free" rating from the BBB; we're a Certified ICPA (Interlocking Concrete Paving Institute) Installer and recognized as an authorized contractor for both Unilock and Belgard.
Highland Park Brick Patios
With 3D Brick Paving Co.at the helm of your brick paving venture, you can always count on us to merge all aspects of your project so that the end result will blend together artistically. Highland Park homeowners, who are interested in increasing the value of their homes, know brick patios, brick driveways and brick walkways are an affordable way to do it. Quality starts with the materials we use, and 3D Brick Paving Co. offers the highest quality selection of brick paving materials in region. We are not only able to meet our Highland Park clients' expectations; we surpass them! So, if you are in the market for a new brick patio, brick driveway or brick walkway, the only name you need to know is 3D Brick Paving Co. Why not give us a call at: (847) 297-7966, today, to speak with one of 3D Brick Paving Co.'s experts?
HIGHLAND PARK BRICK PAVING | HIGHLAND PARK BRICK PATIOS | HIGHLAND PARK BRICK DRIVEWAY
[tcm id="1″]