As both a Unilock Authorized Contractor and an ICPI Certified Installer, we can guarantee that all of our installations will meet the highest industry standards.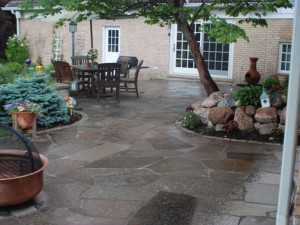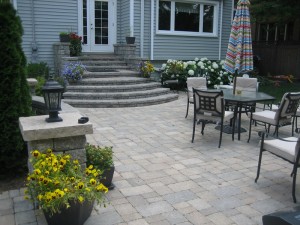 ---
Since 1972, 3D Brick Paving has been recognized as a leading brick paving company in the Greater Chicago Metropolitan Area. As a family owned and operated business in the brick paving industry, we have emerged as one of the foremost designers and installers of natural stone, brick pavers and retaining wall systems for both the residential and commercial markets. 3D Brick Paving is well-known for delivering a variety of home, business and garden services to satisfy all of our customers' needs. When you let our designers create your masterpiece for you, you will be the recipient of the highest industry standards because we use only the finest materials. As both a Unilock Authorized Contractor and an ICPI (Interlocking Concrete Paving Institute) Certified Installer, we are proud of our "Complaint Free" rating with the Better Business Bureau since 1972. In fact, these are just a few of the many reasons Elk Grove Village residents prefer 3D Brick Paving over the competition.
Elk Grove Village Brick Paving
3D Brick Paving has been enhancing the outdoor living spaces for many of the more than 33,000 residents of Elk Grove Village who are homeowners. Furthermore, we also are the favorite brick paving company for many of the 3,600 business found in Elk Grove Village, that is renowned as having the largest industrial park in the United States! Our Elk Grove Village customers like that 3D Brick Paving offers a vast array of styles, colors, sizes, and textures in our brick pavers for their brick patios, brick driveways and brick walkways. Brick pavers are known to be one of the most popular methods for Elk Grove Village homeowners and business owners to add a touch of elegance and value to their properties. Above all, 3D Brick Paving's mission is to provide the best quality brick paving products and installation that incorporates our Elk Grove Village clients' specific needs and style.
Elk Grove Village Brick Patios
3D Brick Paving is particularly proud of their reputation for installation of brick patios, brick driveways and brick walkways. Our outstanding and highly-skilled staff is trained to pay attention to all details of our brick paving projects. It is obvious that we take pride in all of our work… AND IT SHOWS! 3D Brick Paving's ongoing success is closely tied to our unfaltering commitment to individual details and customer service. As one of Chicagoland's foremost brick paving experts, 3D Brick Paving's top priority is, and always has been, customer satisfaction! To learn more about our remarkable brick pavers for your brick patios, brick driveway or brick walkways, call 3D Brick Paving, today, at: (847) 297-7966.
ELK GROVE VILLAGE BRICK PAVING | ELK GROVE VILLAGE BRICK PAVERS | ELK GROVE VILLAGE BRICK PATIOS | ELK GROVE VILLAGE BRICK DRIVEWAY | ELK GROVE VILLAGE BRICK
[tcm id="1″]